Discover the beauty of the arctic. This is a place for both relaxation and adventure. Whether you dream of watching the Northern Lights from the comfort of a warm bed or exploring nature with a team of huskies.
Dogsledding, and the nature experiences that come with it, is more than a hobby for us, it's a lifestyle. We live and breathe it. Whether we are heading out into the wilderness with a team of dogs or taking our guest on a tour around the dogyard. It's a lifestyle that takes you close to nature and its extremes, both in terms of weather and beauty.
Holmen Husky is a small, family-run business who has been working with dogs since the 80s. Some of us have even grown up in the dogyard and on the sled. It is much more than an activity or an experience that has got us all addicted. It's a feeling that must be experienced.

Now we wish to let our guests get a taste of what we fell in love with, both on and off the sled.
We welcome you to our home at Holmen and our way of living.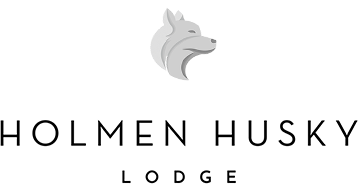 Come and visit Holmen Husky Lodge
There is no better way to experience nature than from the dog sled. We will take you on a journey to discover the beauty of the Arctic