Alta is a jewelry box of fantastic and brilliant hiking opportunities. No matter how short or long a trip you want to go, you will find a trip that suits you.
The outdoor life in Finnmark and Alta is something in itself. Traditionally, the people in Finnmarker have combined outdoor life with harvesting nature's resources. Hunting, fishing and picking berries and mushrooms are a big part of our everyday life – but in recent years, activity-oriented outdoor life has become an increasingly important part of everyday life.
Lets go for a hike under the midnight sun
Alta has midnight sun from mid-May to late July. It gives us the opportunity to go hiking around the clock if we want to. Several of the mountain peaks near Alta take less than an hour to walk and are very popular with both Alta residents and tourists who want spectacular surroundings to see the midnight sun. These tours can of course be taken during the day as well.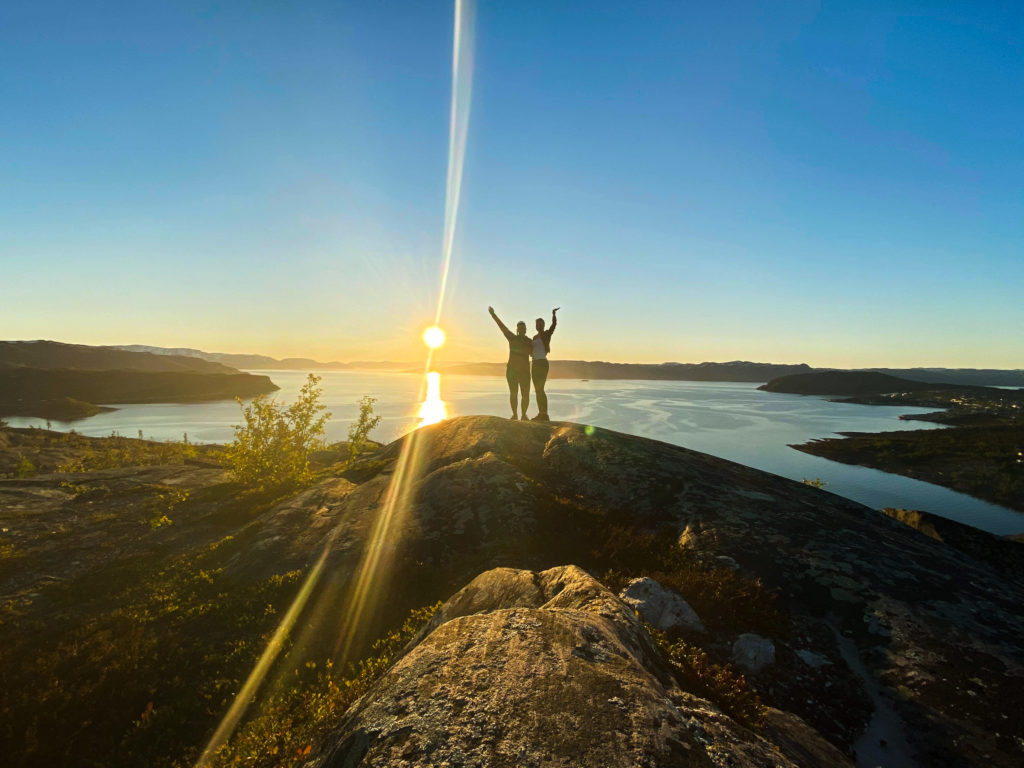 Short hikes
Most people in Alta know about Komsatoppen, maybe not so strange – the top is visible no matter where in Alta you live and there is a huge telemast on the top. In addition, it is an easy walk with good accessibility from the center. Large parts of the trail are not marked, but fortunately all roads lead up to Komsatoppen.
How to have a nice hike with kids? See some great tips from visitnorway.com!
Hjemmelufttoppen is located next to Alta museum and has easy access from the E6. Losvarkollen is located near the ski resort in Kaiskuru. The vantage point at Skoddevarre is an easy, but slightly longer trip. Little Raipas is one of the points on Struve's meridian arc.
Longer hikes
Halddetoppen is the highest of the mountain peaks in Alta and a destination for every hiking enthusiast. The trip goes up to the Northern Lights Observatory, where Kristian Birkeland spent the winter from 1899 to 1900. Borras Vestre is the first of the Borras peaks and it is located on the barren rock. In Rafsbotn is Ulvehenget, a good starting point for several longer trips. Bjørkelitind walks mostly in forest terrain, but you get up on the barren rock the last hundred meters. Alta Canyon is also a gem that is on the bucket list.
Always remember
Always remember to use restraints between April 1st and August 20th. You must show special consideration in connection with the reindeer's calving time in the spring. Otherwise, it is important to remember that we are only guests in nature, not consumers. Always bring rubbish and waste home from the trip.
Do you want more tips for mountain hikes in the Alta area? The book Altaturer can be bought at Alta Museum and Ark at AMFI Alta.