There are lots of exciting and fun things to do in Alta. Here you will find a complete overview of attractions and cultural life in Alta.
Events calendar "Opplev Alta"
At opplevalta.no you will find our events calendar, which will inform you about events that take place in our region. Currently, the calendar is only available in Norwegian.
To the museums
World Heritage Center for rock art – Alta Museum is located in Hjemmeluft, approx. 5 km west of the center of Alta. Close to the museum we find one of the five rock art areas in Alta that was inscribed on UNESCO's World Heritage List in 1985. The rock carvings are available during the snow-free period of the year, while the rest of the museum is open all year round.
In Kåfjord is the Tirpitz Museum. During the Second World War, the German battleship Tirpitz was never able to drop anchor and was damaged under attack by a British mini-submarine. The ship was sunk off Håkøya in Troms on a November day in 1944. This war museum has one of the world's largest collections of pictures and objects from the battleship "Tirpitz". The museum is open in the summer period from 15 June to 31 August.
Churches in Alta
The Northern Lights Cathedral Alta church is probably the best known church in Alta. As a landmark for the city, the cathedral towers at the end of the pedestrian street. But there are also 10 other churches and a church site in the municipality that are worth a visit for those interested.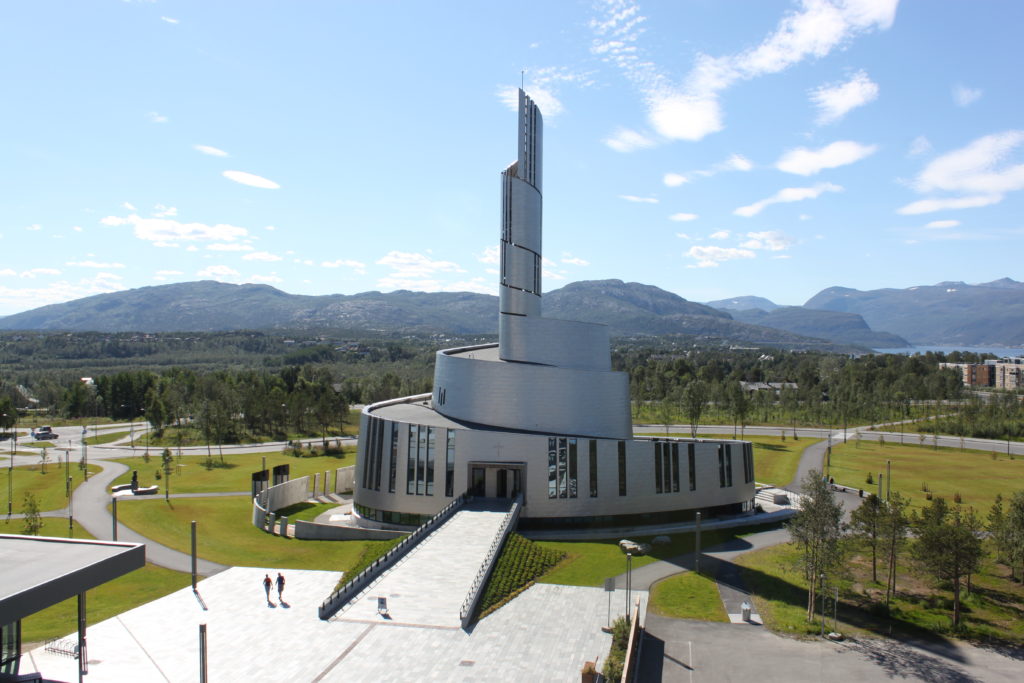 These other churches belong to Alta and Talvik parishes: Langfjord church, Talvik church, Kåfjord church, Alta church, Northern Lights cathedral, Elvebakken church, Rafsbotn chapel, Leirbotn church, Årøya church site, Storekorsnes chapel, Komagfjord church and Rognsund church.
The Årøya church site was actually the location of the first church building by the Altafjord and was built in 1694. In 1705 the church was moved to Talvik, and was demolished again in 1734.
Rognsund church, Komagfjord church and Årøya church site are located out on the islands in Altafjorden and are only accessible by speedboat or ferry.
Shopping
There are good shopping opportunities in Finnmark's largest city. Here you will find what you are looking for, regardless of category. There are two shopping centers in Alta: Parksenteret and AMFI Alta. At Parksenteret you will find local shops such as Kilden, Montana and Alta Blomster og decor. AMFI Alta is Finnmark's largest shopping center with 80 shops and eateries. Alta Handelspark opens in November.
Library
The library in Alta is a pleasant library located next to the pedestrian street. In addition to good reading material, there are often other cultural events at Alta library in the form of music, lectures and exhibitions. Here you will find an overview of opening times and events at the library.
Cinema
Aurora kino Alta is Finnmark's largest and most visited cinema, and is located in the same building as the Alta library. A stop here is a perfect break in everyday life. Here you will find the cinema program.
Nordlysbadet
In city center, close to the Northern Lights Cathedral, you will also find Nordlysbadet. Here is something for every taste with, among other things, a swimming pool, activity pool, water slide, trample and whirlpool. The Nordlysbadet is open every day, with morning swimming on Tuesdays and Thursdays. Please note that opening hours may change on public holidays. In addition, the Actic fitness center is also located adjacent to the Nordlysbadet, where it is possible to train at a drop-in during staffed opening hours.
Bowling
The bowling hall is located in the city center. Here there are 8 bowling alleys where you can frolic, 5 pool tables, snooker tables, table tennis tables, shuffleboard and darts. Here you will find information about opening hours.
Festivals
Missing information