Summit hikes with untouched nature on the way up and the opportunity to set the first tracks on the way down. No 'tram tracks' and no queues. Unattainable? Not at all. Welcome to Nuvsvåg!
Majestic White Peaks
The mountains surrounding Nuvsvåg and Nuvsfjorden constitute the steepest and most alpine part of the Finnmark Alps. Here, you can explore untouched mountains that offer world-class randonée summit tours for both beginners and experienced enthusiasts.
In addition to mountains rising straight from the sea, you'll find exciting glacier areas that also provide excellent opportunities for randonée and powder adventures. In Nuvsvåg, you can strap on your skis and go directly from the cabin, or choose "ski by car" – the next randonée experience is always nearby!
If you wish to have a guide on your trip, we can offer this service through our local partner SPOR Guiding.
Get to Know the Tours in the Area
Kollaren (958 m above sea level): Majestic Kollaren rises 958 meters from the sea, with steep, technical terrain in the middle section and phenomenal powder conditions on the plateau spreading from the top. Enjoy lunch with a breathtaking view. The total duration of the trip is approximately four hours with a moderate difficulty level.
Midtfjellet (500 m above sea level): Midtfjellet is located at the innermost part of Nuvsfjorden and is suitable for both beginners and experienced skiers. The duration of the tour is approximately three to four hours in very manageable terrain. You start from the road and have a steady climb towards the top along a broad mountain ridge. You'll find good places to drop down towards Fjorddalen along the entire ridge, a descent that often offers very fine powder skiing. After the descent, expect a 30–60 minute ski walk back to the car.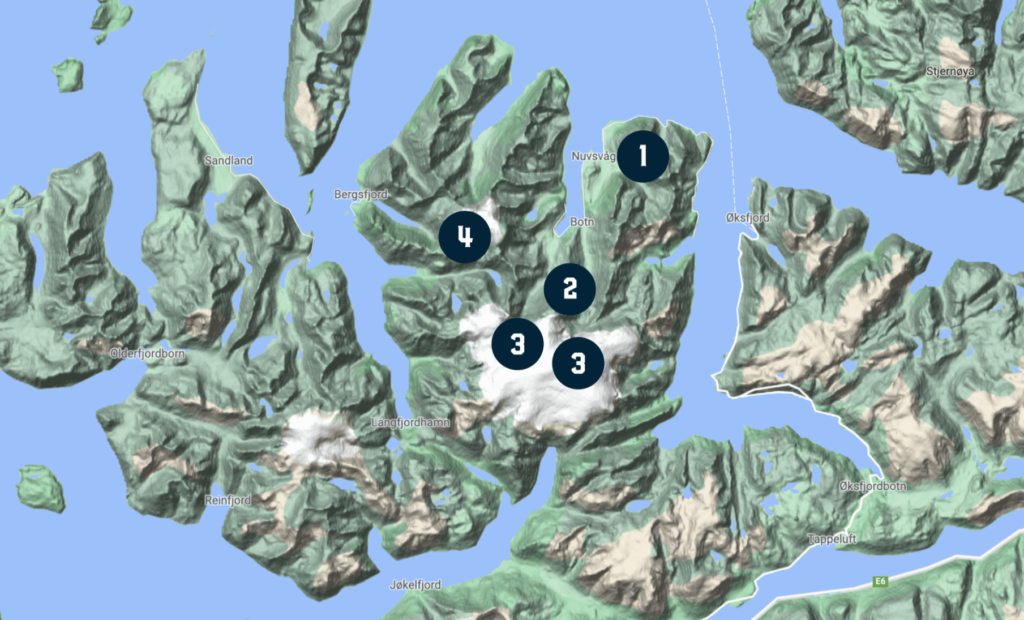 Øksfjordjøkulen (1144 m above sea level): Europe's northernmost mainland glacier is a fantastic destination with excellent ski opportunities, accessible from three different starting points; Tverrfjord, Fjorddalen, and Sørbotndalen. All routes include a relatively flat section before the ascent begins. The descents have stable snow conditions with fantastic powder skiing. In these areas, there are traditionally good summer skiing possibilities until mid-June. The tours will last six to ten hours, depending on route choice and personal fitness. Difficulty level is moderate to challenging. Two summit points on Øksfjordjøkulen are marked on the map, depending on which valley you enter the glacier from.
Svartfjellet (1147 m above sea level): With a duration of seven to nine hours and a lot of traversing to gain altitude, this tour requires good condition and endurance. At the road's end, you put on your skis and walk around Myrnesfjellet to Brattnesdalen. From here, you traverse the over 1000 vertical meters to the top of Svartfjellet. In addition to the majestic view from the top, you also get a few kilometers of powder skiing on the way down. The tour has a moderate difficulty level.
Stay Avalanche Aware!
Feel free to talk to us at Arctic Nuvsvåg before embarking on a randonée tour. We know the area and conditions well and are happy to provide advice to ensure your safety in the mountains.
Keep an eye on avalanche forecasts here!

New peaks and new memories for life await!
Let yourself be enchanted by magnificent nature, untouched mountain slopes, and world-class skiing. Welcome to Nuvsvåg